Yeah so on labor day weekend I decided to drive back down to Florida to see my friends again before I deploy. Wouldn't you know it there was an event in Orlando on Friday night. So I got some tires ready on some wheels and other misc crap, then headed down there. Drive was about 6-1/2 hours to the track including picking a few of my friends up on the way down.
The track is called Central Florida Race Center, it was built not too long ago it includes a 1/8 mile drag stip, go kart track, a skid pad for drifting and somewhat of a road course. We were drifting on part of the go kart track. Track setup was sorta like a smaller version of the balcony events at willow springs (straight into a figure eight into a straight into the back turn). So I parked threw all of my crap out of the car and pulled into line.
My first run I drifted most of the course, not an awesome run but not bad for first run on that layout since I didnt spin and drifted all the main parts of the course. My second run I feel was the best I almost linked the entire track on my second run I straightened out on one of the straights but other wise pretty close.
ok so maybe I lied about that almost linking the track deal. So then I went up for my third run and was feeling pretty good. Went out and pushed harder than my second run annnnd spun twice lol. But I did this sick slide into the back turn.
well about 5 mins later driving through the parking lot my radiator exploded. Like literally EXPLODED! BOOM! Blew the fuck up. Like someone threw a hand grenade under my hood. The plastic end tank on it just went BOOM.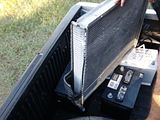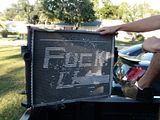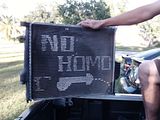 so that ended me drifting that night and started my quest for another radiator. Fortunately there were a few other E36 guys there that night and one of them (Fellow from Bimmer forums) was there and said he had a radiator I could buy off of him. We ran down to his house and got it drove back installed it and got it all back together right around the time the track was closing up.
I spent the rest of the weekend in Daytona with my friends.