yeah so I bought a few more items to go on the car. I hope this shit is worth it since im such a cheap guy. Plus because of these im broke till next wed.
First up is these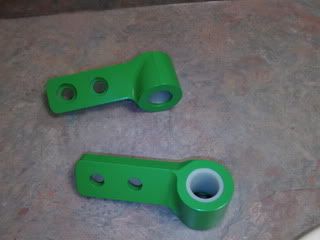 Treehouse racing eyeball arms. I have had a set of new front control arms, tierods and sway bar endlinks sitting in my closet for about 4 months now but I didnt install them because I wanted to get these first. These make the install much smoother (no use of a press) and they will give me some awesome caster, a slightly wider front track and virtually no flex like the stock rubber bushings do. I literally can not wait to get these on since my front end has been feeling as tight as a soggy boner for over a year now.
Now this is the first power upgrade I have done to the car in going on 2 years now, I never felt I needed it but this is just to simple and is far too effective for me not to do. The picture above is of the bimmerworld kit to fit a older OBD 1 M50 intake manifold to a newer M52/S52 OBD 2 engine (I have that S52 doohicky)
The one on the left is the M50 Manifold that I am installing vs. the factory S52 manifold. Yeah can you believe they put the manifold on the left on a 2.5L and the one on the right on a 3.2L. Its like making the engine breathe through a straw.
another example is the port sizes
Check that out! the ports on the M50 are massive compared to the tiny tubes on my stock intake. No wonder this is supposed to be worth almost 30whp on a S52 n/a
Crazy I cant wait to get it on the car this weekend.